Clergy
All baptized members, be they lay persons or clergy, are ministers of the church. All are charged with representing Christ and his Church, and all have responsibility for the church's life, work and governance. For clergy, as for lay persons, there are specific roles and functions for carrying out this charge. Bishops serve as apostles and chief pastors of a diocese, and guard and guide the church's faith, unity and discipline. Priests serve as pastors to the people, primarily through the administration of the sacraments, and also assist the bishop in the oversight of the church. Deacons serve those in need, and share with bishops and priests in the administration of sacraments and the proclamation of the Gospel.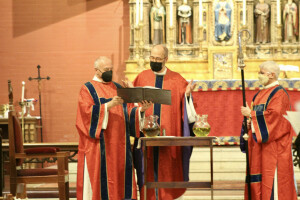 Clergy in the Diocese of Milwaukee fulfill this charge in a variety of roles and settings. Some exercise pastoral leadership of a congregation, some serve on the bishop's staff or the staff of a diocesan ministry, some use their gifts in various helping professions, some carry out ministry through secular employment, and some continue to serve the church after retirement.
Maintaining close connections with a clergy community numbering nearly 200 and spread across southern Wisconsin is a primary concern for the bishop. Personal interaction is achieved through clergy days and congregational visits. Communication tools such as the weekly Diomil ENews email newsletter, a monthly news bulletin for the clergy, and the clergy Facebook group further enhance this sense of shared purpose and identity.
Clergy in the diocese should also be familiar with and adhere to the Policies and Procedures that protect them and their congregations.
Fall Ministry Grants
The diocese is offering Fall Ministry Grants to strengthen ongoing ministries and help parishes begin new ministries. Through these grants, we seek to support ministries that will meet one or more of these goals:
strengthen parish identity and purpose
deepen parish engagement with the local community
help to foster healthy and effective organizational dynamics in the parish community
We are offering two types of grant opportunities for parishes in the diocese, Ministry Grants and Development Grants.
To learn more and to apply, click here for directions and requirements.
Clergy Resources
Bishop Visitation Preparation Form
Visitation Guidelines and Chrism Recipes
Deacon Service Checklist (updated May 2023)
Resources for Common Prayer (from the Task Force on Liturgical and Prayer Book Revision)
Clergy Directory (password required; contact Sara Bitner for password)
Clergy Minimum Compensation for 2023
Church Insurance
Marriage Judgment Application (revised January 2023)
Marriage Judgment Guidelines
Supply Clergy List
Churches in Transition
Clergy Guidelines for Leaving a Congregation
Crisis Helplines (February 2023)
Milwaukee Spiritual Directors
Deacon Handbook (updated May 2023)
Clergy Tax Preparation (2023 Clergy Tax Return Preparation Guide from the Church Pension Group)
Parish Forms
Certificate of Election of Lay Deputies
Request for Licensing of Lay Persons
Church Leader Contact Info