Diocesan Convention
The annual Convention is where members of the diocesan community gather to conduct the business of the diocese, strengthen fellowship, equip and expand their capacity for ministry, and renew their faith through prayer and worship.
The annual Convention and special conventions are convened by the ecclesiastical authority of the diocese, usually the bishop, or in the absence of a bishop, by the Standing Committee. Each parish of the diocese is entitled to appoint up to four lay deputies to serve as members of the Convention. All clergy canonically resident in the diocese, and in good standing, are considered members of Convention.
Occasionally Special Conventions are convened to address a matter of critical consequence to the life, work and health of the diocese; or to elect a bishop.
The principal business of the Convention is to address legislation and resolutions, elect officers of Convention, and members and representatives of canonical bodies, establish the assessment for funding the diocesan budget, and adopting a budget for the coming year. The bishop, who serves as president of Convention, gives his report on the state of the diocese in his pastoral address.
Formation and education are an integral part of Convention through workshops, presentations, exhibits, and networking. A program, speaker, or new initiative is often highlighted during the business sessions, and ministry celebrated through the presentation of the Bishop's Shield award to persons who given exemplary service to their churches and communities.
Prayer and worship undergird all aspects of Convention, most notably through the Convention Eucharist.
---
2022 Diocesan Convention
The 175th Convention of the Episcopal Diocese of Milwaukee is scheduled to be held on Friday, October 7 (evening) and Saturday, October 8, 2022.
Keynote Speaker | Becca Stevens | Revival
Get ready to feel inspired to keep loving the world and renew the right spirit in our hearts.
We will reflect on how revival is the soil to grow movements and encourage growth. On the way of love, we don't have to quit when we feel weary. Drawing on her twenty-five years of work as a priest and founder of Thistle Farms, Becca will offer us time to think how all our offerings change the balance of love in the world. She will also share stories from her latest efforts in Poland, working with women knitters who are refugees from Ukraine. Come prepared to welcome the spirit. Revival is not in spite of our hardships; it is in response as a defiant and faithful act.
About Becca: Becca Stevens is a speaker, justice entrepreneur, author, priest, and founder and President of Thistle Farms. She has been featured on PBS NewsHour, The Today Show, CNN, ABC World News, named a CNN Hero, and White House Champion of Change, holds five honorary doctorates, and raised over $65M in funding for justice initiatives. Drawn from 25 years of leadership in mission-driven work, Becca leads important conversations across the country with an inspiring message that love is the strongest force for change in the world.
Convention Materials
The 175th Annual Convention of the Episcopal Diocese of Milwaukee will meet on Friday, October 7, 2022, at the Westin Hotel and Saturday, October 8, 2022, at the Italian Community Center in Milwaukee, Wisconsin. Please complete the following steps to ensure a productive and enjoyable convention.
Registration for the 175th Diocesan Convention is now closed. If you have any questions, please contact
Hotel Block Reservation Link (deadline September 23)
2022 Resolutions (updated 9/20/22)
Nominations with Bios (updated 9/23/22)
2023 Budget
Tentative Convention Schedule
COVID-19 Safety Policy
Parking Instructions
Pre-Convention Hearing
A pre-convention hearing was held on Monday, September 19. For those who weren't able to attend, you can watch the recording of the meeting here. You'll hear about the resolutions and budget being proposed at this year's Diocesan Convention, as well as listen to questions asked by attendees.
If you have any questions, please contact administration officer Graicey Van Spankeren for assistance ( or ).
---
2021 Conventions


Diocesan Convention | October 9, 2021
The 174th Diocesan Convention was held remotely on Saturday, October 9,
You may watch the live stream recording of the Convention below.
Recordings of the Address from Bishop Lee and video remembrance of those in the diocese who have died in the past year are also available.
If you have any questions, you may contact Barbara Klauber, administrative assistant, at or (414) 272-3028/ext. 111.
Minutes of the 174th Diocesan Convention (Draft)
Election Results
Bishop Lee's Address to the Convention text
Agenda
Proposed Diocesan Budget for 2022
Resolutions
Nominations for All Elected Positions
Bishop's Appointments
Convention Reports
Rules of Order
Special Rules for Virtual/Distance Conventions

Special Convention | June 26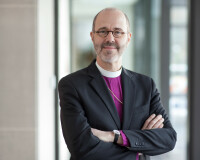 A Special Convention to confirm Bishop Jeffrey Lee as the provisional bishop of the diocese was held on June 26. You may view a recording of the proceedings below.
Approved Minutes from the June 26 Special Convention
---
2020 Diocesan Convention
The 173rd Annual Convention of the Episcopal Diocese of Milwaukee was held remotely on Saturday, October 3. The convention was livestreamed and it is available to view on our YouTube channel, along with a special pastoral address from Presiding Bishop Michael Curry and Bishop Steven A. Miller, a tribute video with Bishop Miller to celebrate his 17 years of ministry with the diocese, and a remembrance video of those who have died in the diocese in the past year.
Election Results
Brief Agenda
Rules of Order for Diocesan Convention 2020
Nominations for Positions
2021 Budget Packet
Resolutions
Reports to the 2020 Diocesan Convention
Bishop's Appointments
Approved Minutes from the 173rd Diocesan Convention
---
Special Convention: July 16, 2020
Bishop Miller called a special convention on Thursday, July 16, 2020, for the sole item for consideration: amending the canons to allow us to hold our fall diocesan convention by virtual or electronic means.
Approved Minutes for the July 16 Special Convention
2019 Diocesan Convention
The 172nd Diocesan Convention was held on Saturday, October 19, 2019 at the Madison Marriott West Hotel.
172nd Convention Minutes (draft)
172nd Convention Election Results
172nd Convention Appointments
Canon 34
2020 Diocesan Budget with Transition
Standing Committee Report to 2019 Diocesan Convention

2018 Diocesan Convention
Minutes of the 2018 Convention
Bishop's Sermon to the 171st Diocesan Convention
Photo Gallery
Election Results
2017 Diocesan Convention
Minutes of 2017 Convention (draft)
Election Results
Photos from 2017 Diocesan Convention
Report of Task Force on Canon 28
---
Constitution and Canons of the Episcopal Diocese of Milwaukee (Revised October 2020)