Haiti Partnership
The Haiti Partnership is an outreach ministry of the Episcopal Diocese of Milwaukee. Our partnership with the community of Jeannette, Haiti, began in 1982 with Père Octave LaFontant's vision. At the time, Jeannette had no school and no healthcare. Jeannette is located in the southwestern peninsula of Haiti about 70 miles west of the capital, Port-au-Prince. Like many rural regions, Jeannette is more of an area than an actual town — consisting of five zones, best described as neighborhoods. Père LaFontant, Bishop Roger White, and people of Wisconsin came together to build a school brick-by-brick. In the time since they built a clinic and the school has grown.
"For over forty years, we have been in a loving and life-changing relationship with our sisters and brothers in Haiti. Our support of the school, clinic, and church of St. Marc in Jeannette has been a gift of God to many, many people. Over the past year in particular, we have been in the process of evaluating the way we engage in this work and considering ways in which we might make it even more effective." — Bishop Jeffrey Lee
Haiti Partnership Today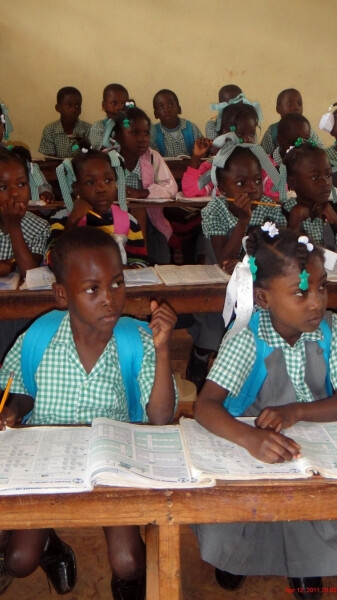 The Diocese of Milwaukee (with the support of many contributors from all over Wisconsin and beyond) has committed to funding St. Marc School and Clinic in Jeannette, Haiti for the 2022-23 school year. These local institutions depend on our support, and we have pledged to remain faithful to these foundational programs of our four-decade partnership.
APSHA: Our Partner in Haiti
The Haitian non-profit organization Action Pour Sauver Haïtï (APSHA) has been our fiscal partner in Haiti since 2018, providing exemplary accountability and transparency for all funding sent to them for local disbursement to St. Marc School and Clinic. Their leadership team has deep personal connections and a long-standing history with the community in Jeannette. One of their co-founders and Executive Team Leaders, Rodolphe Eloi, served St. Marc's for 30 years, as teacher, lead teacher, parish administrator, and in other capacities until his retirement from that position in 2018.

In addition to working in education and healthcare, APSHA's key leaders have worked throughout Haiti in the areas of sustainable development, agriculture and cooperatives, small business, women's groups, livestock, public health, and more. They have expertise in managing locally-designed and locally-implemented initiatives to improve local economic conditions and food security, ad ameliorating the ravages of deforestation, all in the context of building a more viable and equitable civil infrastructure. In Haiti, where socio-political instabilities are at their worst in many decades, rebuilding society from the ground up is more important than ever. Now, our friends in Jeannette need our support more than ever.
Our Plan
In August 2022, the diocesan Executive Council unanimously decided to engage the services of APSHA for a five-month study of how we might better support the community of Jeannette in their goals, with the intent of creating a more sustainable economic base for themselves and St. Marc School and Clinic.

During this time, they will engage all sectors of the community in focus groups aimed at exploring needs, resources, assets and opportunities in the local area. Then they will create a strategic plan for strengthening the community through sustainable development initiatives. After the report and plan from APSHA are received, they will be evaluated, shared and discussed as a possible roadmap for the ongoing partnership.
---
"And he who was seated on the throne said, "Behold, I am making all things new." Revelation 21:5
For many years the people of the Diocese of Milwaukee and the people of St. Marc's, Jeanette, have shared in a mutually life-giving relationship through the Haiti Project. I am very happy to see that that relationship is now being revitalized in the formation of the Haiti Partnership, and I encourage every member of our diocese to actively support it, as we jointly renew our commitment to our risen Lord and to His people in Jeanette.
The Rev. Stephen R. Capitelli
Diocese of Milwaukee Executive Council
---
What's Happening Now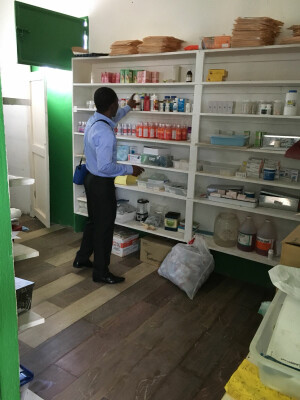 Under APSHA's direction, focus groups from all sectors of the wider Jeannette area have begun meeting regularly, using a participatory, collaborative methodology that brings all sectors into the conversation and planning. We'll tell you more about that in future issues. Meanwhile, subject-matter experts are preparing to meet with many groups from the wider community: teachers, clinic staff, parents, farmers, businesswomen, students, and others. When the studies are completed and data analyzed, our partners in Haiti will send us the results and recommendations and we'll share them with you.

Meanwhile, here at home, we are holding focus groups to strengthen our ability to sustainably support the community of Jeannette and their plan going forward. We know that communication on our end has been weak of late, as we've been in this time of transition. We are working hard to improve that and ask you to join us in that effort.
"Our goal is to strengthen the sustainability of our support, to build on relationships we already have in Jeannette in ways that will empower their self-sufficiency to the greatest degree possible, and to broaden support for the Haiti Partnership among our diocese and beyond." — Bishop Jeffrey Lee
Updates
You can watch videos and read updates on the partnership on our Haiti Partnership News blog.
Support the Haiti Partnership
Please help support the Haiti Partnership. Give online (select "Haiti Partnership" from the drop-down menu) or send a check payable to the Episcopal Diocese of Milwaukee (804 E. Juneau Ave.; Milwaukee WI 53202; write "Haiti Partnership" on the check memo line).
Contact

Episcopal Diocese of Milwaukee
804 E Juneau Ave
Milwaukee WI 53202
414-272-3028