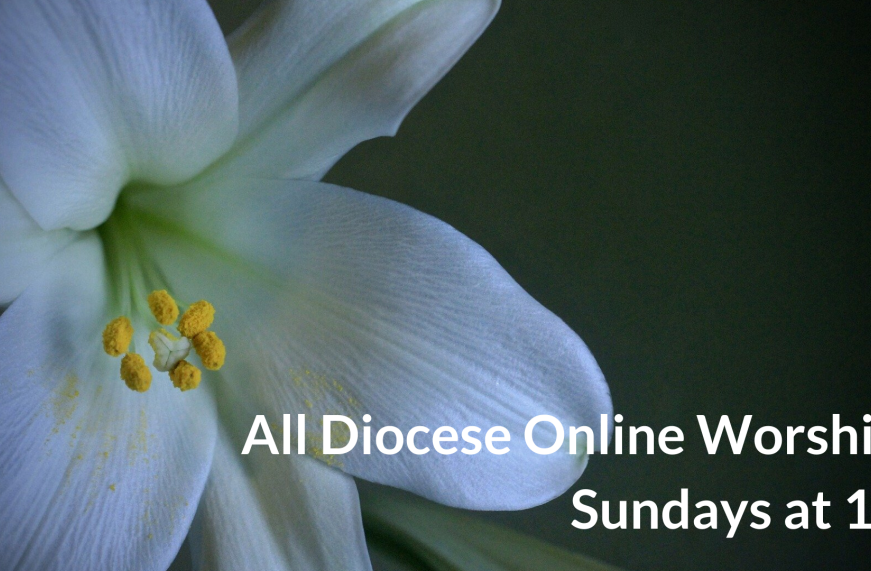 EASTER DAY ALL DIOCESE ONLINE WORSHIP | APRIL 12, 2020 AT 10 AM

We enjoy seeing all the comments in our livestream worship service, especially comments telling us where you were joining us from! We look forward to seeing you again this week for our special Easter Day worship.
We again invite you to come together as a diocese, as one part of the body of Christ, to worship with us. At 10 am, we will live stream a Liturgy of the Word with a special sermon from Bishop Miller via YouTube and Facebook Live. All of our all diocese liturgies feature officiants, preachers, readers, and musicians from throughout the diocese.
We have scheduled the service to run on both YouTube and Facebook. People report that the picture is clearer when viewed on YouTube.
Please note: These are different links from last week.
We have made a service bulletin for you to follow along at home. Here is the link to the bulletin:
On Sunday morning, click here to view our service via YouTube:
Or you can watch the livestream on our Facebook page:
https://www.facebook.com/DioceseOfMilwaukee/
Parish website administrators, you may embed this link on your websites to directly stream our service there:
<iframe width="560" height="315" src="https://www.youtube.com/embed/_mlXFaTav3c" frameborder="0" allow="accelerometer; autoplay; encrypted-media; gyroscope; picture-in-picture" allowfullscreen></iframe>
We look forward to coming together as a diocese to worship and pray with you and celebrate the Resurrection of Jesus Christ. Please join us. Share these links widely!
For updated information, click here:
https://www.diomil.org/resources/all-diocese-online-worship/