Just as the students at the University of Wisconsin–Madison students are beginning classes, we are excited to announce the next chaplain for the St. Francis House Episcopal Student Center (SFH). Working together with Ministry Architects and with the consultation of Bishop Jeff Lee, the St. Francis House board has hired the Rev. Roberta A. (Bobbi) Kraft to serve as Chaplain and Missioner for Young Adults. Mother Bobbi will begin her ministry in mid-October.
Fr. Scott Leannah, Canon for Ministries for the Episcopal Diocese of Milwaukee, explained about the search process noting, "The St. Francis House Board has engaged in a thoughtful, prayerful process, utilizing the skills and gifts of a church consulting organization, Ministry Architects. They have laid the groundwork for a vision of campus ministry rooted at UW–Madison. Their search for a new leader to help inspire, guide and shepherd this ministry led them to the Rev. Bobbi Kraft.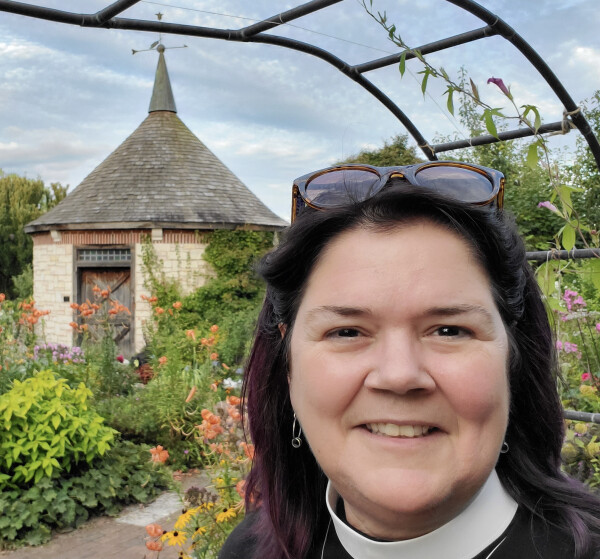 About Mother Bobbi
The Rev. Roberta A. (Bobbi) Kraft is a native of Sheboygan, Wisconsin, and is a 2018 graduate of Virginia Theological Seminary (VTS). Mother Bobbi is currently the vicar of Saint Barnabas the Encourager Episcopal Church in Suamico, Wisconsin, having previously served at Holy Spirit Episcopal Church in Waco, Texas. While in Waco, Mother Bobbi (aka, Rev B, Mama Kraft) assisted the Episcopal Student Center for Baylor University having previously served as chaplain to undergraduate students at Georgetown University during her time at seminary. Mother Bobbi holds additional training in spiritual direction, marriage preparation and counseling, and active bystander training.
Prior to answering the call to ministry, Mother Bobbi worked in the financial industry where she was grants officer for two foundations and an assistant vice president for two banks, including one in Madison, Wisconsin. During the thirteen years she lived in Madison with her family previously, she earned her Bachelor of Science in Accounting from Upper Iowa University. In addition to her master's in divinity from VTS, she obtained a Master of Science in Management and Organizational Behavior degree from Silver Lake College of the Holy Family in Manitowoc.
Mother Bobbi is the proud mother of two adult daughters and is pleased to have instilled in them the value of pilgrimage during extensive travels throughout the US and Europe. On her own, she has traveled to the Mediterranean and Middle East, including Jerusalem, several times and in 2017 served as a missionary to Kurdish and Syrian refugees in Northern Iraq. In her leisure time, Mother Bobbi enjoys art museums, puzzles, geocaching, and is an avid knitter.
Mother Bobbi is passionate about empowering others, especially young adults, to engage in faith conversations and is always ready to consider where God is leading! She looks forward to returning to and living in Madison this fall. She noted, "It's important to me to provide safe spaces for collegiate, non-collegiate, and post-collegiate young adults to explore and grow in their relationship with God in order to become faithful leaders in their families, their workplaces, the Church, and our world."
St. Francis House board member Fr. Andy Jones stated, "The Rev. Bobbi Kraft brings a lifetime of related experience and a clear passion for Campus Ministry to her role as the full-time Chaplain and Missioner for Young Adults at St. Francis House, the Episcopal Student Ministry at the UW–Madison. The SFH Board is delighted that she has accepted the call to serve, and is incredibly excited at the possibilities and potential as we continue to build this ministry together!"
"I am so excited to begin serving the Church as St. Francis House Chaplain and Young Adult Missioner for the Diocese of Milwaukee," Kraft expressed. "Since the earliest days of ministry discernment, the Holy Spirit has 'haunted' me related to ministry with young adults. It's amazing to see the many ways in which the Spirit has continued to prepare me through the years in order to return to Madison, a city I already know and love, to do just that."
Fr. Leannah concluded by expressing, "We are grateful for her presence among us, we look forward to getting to know her, and we pray for many blessings on this new beginning."