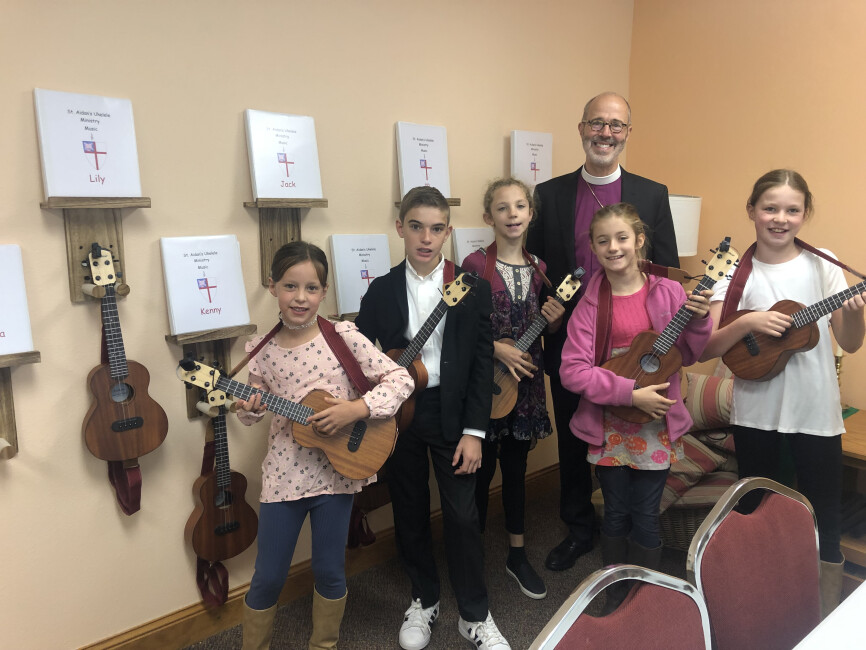 Diocesan Convention Pastoral Address
The Rt. Rev. Jeffrey D. Lee
October 8, 2022
Among the things I love best about parish visitations are the wonderful, informal side conversations I get to have with folks before the service and especially at coffee hour. Those are the conversations where I often learn more about the congregation's life than in any official report (with all due respect to Annual Parochial Reports). I love it when people feel free to ask the bishop questions or to tell me what's really happening — more often than not, people want me to know what they love about their church, very frequently what they love about their priest or deacon. And, of course, sometimes, they want to be sure I know about some challenge or something that's not quite right in their opinion about where things are going in the parish. A couple of weeks ago I had a couple of these delightful conversations at St. Aidan's in Hartford. It was a lively Sunday morning with confirmation and receptions - people were very chatty before church began formally and the coffee hour was more like a coffee banquet. I was making my way around the parish hall, stopping to chat with people at different tables, when a very lively and precocious young girl came up to me and asked if she could ask me a question. From her demeanor, I was sure I was about to get one of those profound God questions that children are so good at asking. Or at the very least, maybe a question about some aspect of the bishop's headgear or crosier or something. So I leaned down and said, "Of course, you can ask me anything … what would you like to know?" With a very serious face, she said, "Can you play the ukulele?"
The answer is, "Uh, no." But not to worry. She just grabbed my hand and led me merrily to the classroom down the hall where the folks at St. Aidan's have constructed a ukulele studio (it is the coolest thing) and where a bunch of kids were waiting to show me that they could, in fact, play the ukulele … and the ukulele band often plays in church.
I love that story because it points me to so much of what leadership in the church boils down to. It's a matter of attending to each other, of being in relationship with one another and always being ready to be surprised by the wonderful diversity in the Body of Christ. I have been a priest and a bishop now for a few years (you could say), and while leadership in the church is sometimes hard work, I've come to believe that it's not all that hard to figure out what to do and what not to do. We show up, we practice loving one another, and we turn that love outward to a world in desperate need. We celebrate the unfathomable love of God in choosing us to be God's own people. We celebrate — ukuleles and all.
It has been an enormous privilege to have been called to serve as bishop provisional in the Diocese of Milwaukee. I've been here just about a year and half now and I think that together we have made some real progress in doing what I believe I was called here to assist in bringing about. Namely, a culture shift in how we relate to each other, a renewal of our spirit and a rediscovery of our identity as a diocese. When I started as your bishop, I was struck by how many stories I heard where the theme was disappointment or frustration or anger. There was a fair amount of mistrust of the office of the bishop.
Now we were in the midst of the pandemic so I'm sure that colored it all, but I knew I wanted to hear a lot more about joy and hope and trust and playfulness.
The practitioners of family systems theory are fond of saying that seriousness is blood kin to anxiety. In a worried or anxious system — a family or a church or any kind of organization — there is very little room for playfulness. So, guess what I've been on the lookout for! And I'm happy to say that the conversations I've been having these days around the diocese have a lot more light-heartedness to them. I don't mean goofy or silly — playfulness can be quite serious sometimes, but it is not reptilian. You know, that squinty-eyed look around the meeting when things have turned deadly serious. Playfulness is when there is creativity and energy about what might be. It's the way I think God is in the act of creation. Full of possibilities.
From Whitefish Bay to Prairie du Chien, from Richland Center to Kenosha, from Madison and Baraboo to that historical ravine separating two big church buildings a block and a half apart on Yankee Hill in Milwaukee - I am seeing a renewed sense of playful creativity blooming. Trust is growing — between congregations and when it comes to the office of the bishop. Where we know full well that trust is earned (and proven) … we're trying to earn that trust at every level. The bishop's staff is working hard to deliver excellent and reliable support for all our congregations and ministries. When we make a mistake or do something dumb, we will be quick just to say so and ask for your help in making whatever it is right. We've got congregations entertaining new levels of partnering, sharing clergy and other resources. We've got new initiatives in campus ministry. We're sharing in funding a youth and young adult position for Episcopalians throughout the whole state of Wisconsin. We're renewing our long-term commitments to partners in Africa and Haiti with new approaches that will demand more of us than ever before. We are entertaining the possibility of reshaping the whole Episcopal Church in the State of Wisconsin, reimagining what it would be like for all three dioceses to rediscover our DNA as a missional diocese for the 21st century. If all of that is not creatively playful, faithful, and fueled by the joy of Jesus, I don't know how else to explain it.
Dear Church, we have so much to be thankful for. For our forebears in the Oneida Nation who brought this church to these territories. For Missionary bishops, priests and settlers from the east who traveled and preached and planted worshipping communities here. For generations of faithful members of the congregations we still call home. We are awash in legacy and resources and commitment and loving service. We have much to celebrate and of course, much to take stock of and repent. I encourage every congregation in the Diocese of Milwaukee to take to heart the superb work of the Task Force on Land Acknowledgment and spend this next year studying their report and engaging the questions they raise for all of us. We have work to do in embracing and celebrating the full diversity of God's people. We have work to do in acknowledging the realities of systemic racism and how some of us benefit from them and others bear the burden of our privilege; we have work to do in dismantling prejudice, gender inequalities, homophobia. We are challenged to stick to the gospel of Jesus in the face of a world that regards institutional Christianity as irrelevant and worse. We are called to be the good news of Jesus, to baptize and feast and serve with open hands and hearts in a world of fear and violence and political circus that systematically dehumanizes all of us made in the image and likeness of God. We have work to do.
But, oh my friends, what work it is. The survival of the church, the success of the Christian enterprise — none of that depends on us. Thank God. The salvation of the world, the reconciliation of all things is God's project, not ours and the outcome is assured. Jesus has accomplished all of it, gathered all of it to himself on the cross and offered it to the Father, who has poured out the power of the Holy Spirit on you and me. God has set the Spirit loose in this world to guide us and lead us step-by-step, inch by inch into the Reign of God which is already dawning in ways that can still take our breath away.
Dear Friends, rejoice and be glad … Love wins.