Bishop Miller Visits Tanzania
Dear Friends in Christ,
I write you having just returned from a visit to our companion Diocese of Newala, Tanzania for the celebration of the tenth anniversary of the diocese. I bring you greetings from our askofu rafaki (friend bishop), who asked me to convey to you his love and prayers along with gratitude for all we in the Diocese of Milwaukee has done with and for the diocese.
What made this trip especially important was that I also had the opportunity to meet over 20 other members of the Tanzania House of Bishops who were also present for the celebration liturgy on Sunday. Nurturing the relationship between the Church in Tanzania and The Episcopal Church is especially important as we approach the Lambeth Conference next summer.
As you will see from the picture the Archbishop and I have the same vestment maker, Sr. Helen CMM. When I saw his cope and noticed the same blue material on the orphrey, I asked him if Sr. Helen had made his and he responded, "yes." I shared with him that mine was as well, a gift from you, the Diocese of Milwaukee, on the 10th anniversary of my ordination and consecration as your bishop.
Please continue to pray for the Diocese of Newala and our sisters and brothers there. Know that they are praying for you. Below are a couple of pictures from my visit.
+Steven
Archbishop Maimbo Mndolwa and Bishop Miller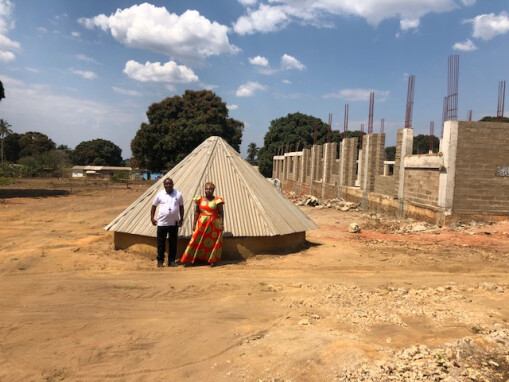 The Rt. Rev. Oscar Mnung'a and his wife, Mama Agnes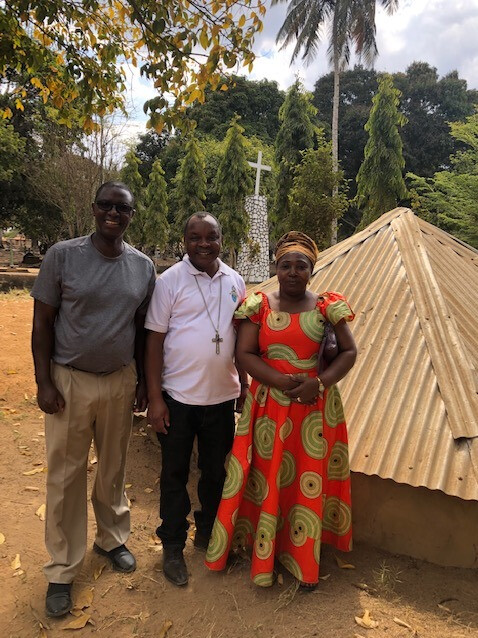 The Rt. Rev. Oscar Mnung'a and his wife, Mama Agnes, and Fr. Oswald Bwechwa
The structures in the second and third pictures are a type of cistern. The Diocese of Milwaukee has assisted with some of the cost of building cisterns like there there.