Camp Webb
---
April 22, 2020
Dear friends in Christ,
It is with heavy hearts that we write to inform you of our decision to cancel Camp Webb for summer 2020. In consultation with Lutherdale Bible Camp, we have decided that it is best to encourage families to stay at home and stay safe until the COVID-19 pandemic is under control.
Should Lutherdale proceed with their camping sessions this summer (which we believe to be highly unlikely), they will have to institute social distancing, masks, and gloves, and will keep groups to a limit of 5 and under. They are still determining if this is possible. In our case, we are housed in a much smaller and intimate space with less availability to spread out and keep our campers and staff safe. More importantly, we believe the necessary precautions would severely undermine the program and experience we want to offer.
At this time, we are considering the possibility of offering camp virtually. The Rev. Elizabeth Tester, Camp Webb Director, will be researching ways that we might connect and stay in touch this summer through virtual means in addition to other avenues of participation. Please stay tuned.
In the meantime, if you have paid towards your camping fee this summer, you may request a refund by contacting Canon Kevin Huddleston, Interim Canon for Finance at . Alternatively, you might wish to consider designating any fees paid a donation to the Camp Webb Scholarship Fund, which helps campers from economically challenged families attend camp.
While we will not gather in person this summer, we continue to be connected through the Holy Spirit and in our Episcopal identity. We would invite you to sing camp songs and play camp games in the safety of your own homes and with the understanding that this too shall pass, and, when it does, we will come together again to celebrate at Camp Webb.
God's blessing and peace be with each of you.
The Rt. Rev. Steven Andrew Miller, Bishop
The Rev. Elizabeth Tester, Camp Webb Director
---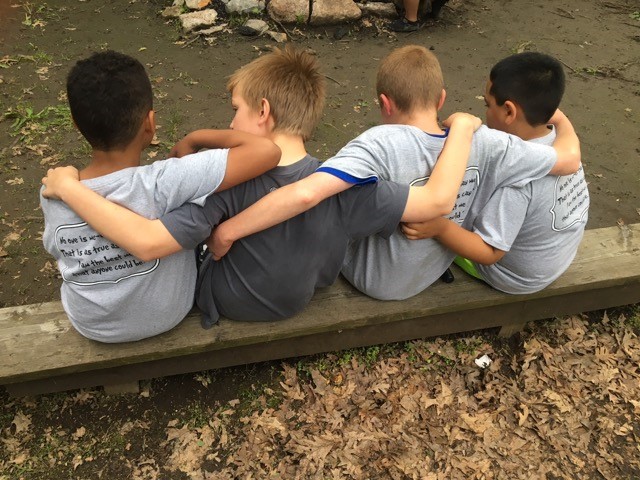 Camp Webb is an outdoor ministry of the Episcopal Diocese of Milwaukee. Everyone who comes to Camp Webb is given the opportunity to learn more about themselves and others, to discover more about the Episcopal Church, to develop a greater spiritual awareness, and to encounter Christ through living and learning in God's creation. Campers will learn new skills, make new friends, create lasting memories and explore who they are and who God is in their lives. Camp is held at the beautiful and centrally-located Lutherdale Bible Camp near Elkhorn. It is has a lake, large playing fields, basketball court, archery range, large campfire pit, volleyball court, rock wall climb, ropes course and more. We use the air-conditioned DeBack Family Lodge with open and inviting large group spaces, kitchenettes, and beautiful sleeping quarters with attached bathrooms and more.
Camp is for kids who are rising 3rd graders through 12th graders. We have both large group activities (morning and evening prayer and our evening all-camp activity) where the kids participate together. We also have small group activities (such as program time where the chaplain will adjust activities for appropriate age levels). For instance, during program time senior high youth might benefit more from small group discussion whereas our younger youth might explore spiritual topics through an arts and crafts activity). Cabins are also divided according to age and are staffed by counselors who are skilled in working with those age groups.
Fees and Scholarships
Registration Fee: $400
(Deposit Fee is $100.00; due with registration)
Fees are heavily subsidized by the Diocese of Milwaukee. Payment installments can be arranged. The balance in full is due on June 1, and there are no refunds after June 1.
All campers must have a deposit in order to reserve a space at camp. No spaces will be reserved without a deposit. The deposit ($100.00) is due at time of registration.
Diocesan Scholarships — The diocese offers scholarships to Camp Webb. When you register for camp, you will be invoiced at which time you may indicate you wish to apply for a scholarship.
Parish Scholarships — Your parish may offer assistance to attend Camp Webb. Please check with your church to determine if your child might receive assistance. After you register for camp, you will be invoiced at which time you may indicate if your parish will be assisting with your fee.
Sibling Discount — If you have more than one child attending camp, each additional sibling will receive a $20 discount. When you register for camp, you will be invoiced at which time you may indicate if you qualify for this discount.
Clergy Discount — Clergy who send their children or grandchildren to camp are eligible for a discount. When you register for camp, you will be invoiced at which time you may indicate if you qualify for this discount.
We invite and welcome all young people to share in the camp experience, so invite your friends, cousins, and family! Camp Webb is open to all campers regardless of race, sex, creed, national origin, age or handicap. We believe no child should miss camp because of money. Scholarship assistance is available on a first come, first served basis. Please apply early for assistance. Check with local resources too, such as your parish priest or church groups (ECW, Men's Group, Youth Group, etc).
Forms for Camp Webb

The following forms are for families who have registered for camp. Camp registration for 2020 is now open. After we receive your registration, a packet of forms will be emailed to you from the director. You will receive a separate invoice from the diocese regarding your camp fee.

Camp Webb Covenant (Due with registration and deposit by April 15)
Health Form (Due before June 1)
Eagle's Nest (Due with registration and deposit by April 15; Required for Climbing Wall and Ropes Courses)
Accident Waiver and Release of Liability
Packing List
Camp Webb Staff Application Information
The Camp Webb Director is the Rev. Elizabeth Tester. We are a camp staff committed to keeping your kids happy, active and safe as they attend camp! Before camp begins, the staff spend a week together being trained, planning the week and preparing for the arrival of the campers. The staff go through 50 hours of preparation including, but not limited to, first aid, child development workshops, Safeguarding God's Children Misconduct Prevention Training, multicultural awareness instruction, team building exercises, emergency drills, and preparation time for all the areas of camp life. The waterfront is staffed by certified lifeguards from Lutherdale Bible Camp.
The application deadline is April 15, 2020. Applications should be sent to Rev. Elizabeth Tester.

New Staff Application
Returning Staff Application
Reference Form
Links
Camp Webb on Facebook
Episcopal Camps and Conference Centers
Lutherdale Bible Camp
Camp Director Contact
The Rev. Elizabeth Tester, , or call 414-272-3028.
All photos used with permission.