Our Response to the COVID-10 Pandemic
Resources
REMOTE WORSHIP AT DIOCESAN PARISHES

EPISCOPAL RELIEF & DEVELOPMENT RESOURCES
THE EPISCOPAL CHURCH COVID-19 RESOURCES
WISCONSIN DEPARTMENT OF HEALTH SERVICES: RESOURCES FOR FAITH-BASED ORGANIZATIONS
INTERNET RESOURCES FOR WISCONSIN RESIDENTS
Messages and Announcements from Bishop Miller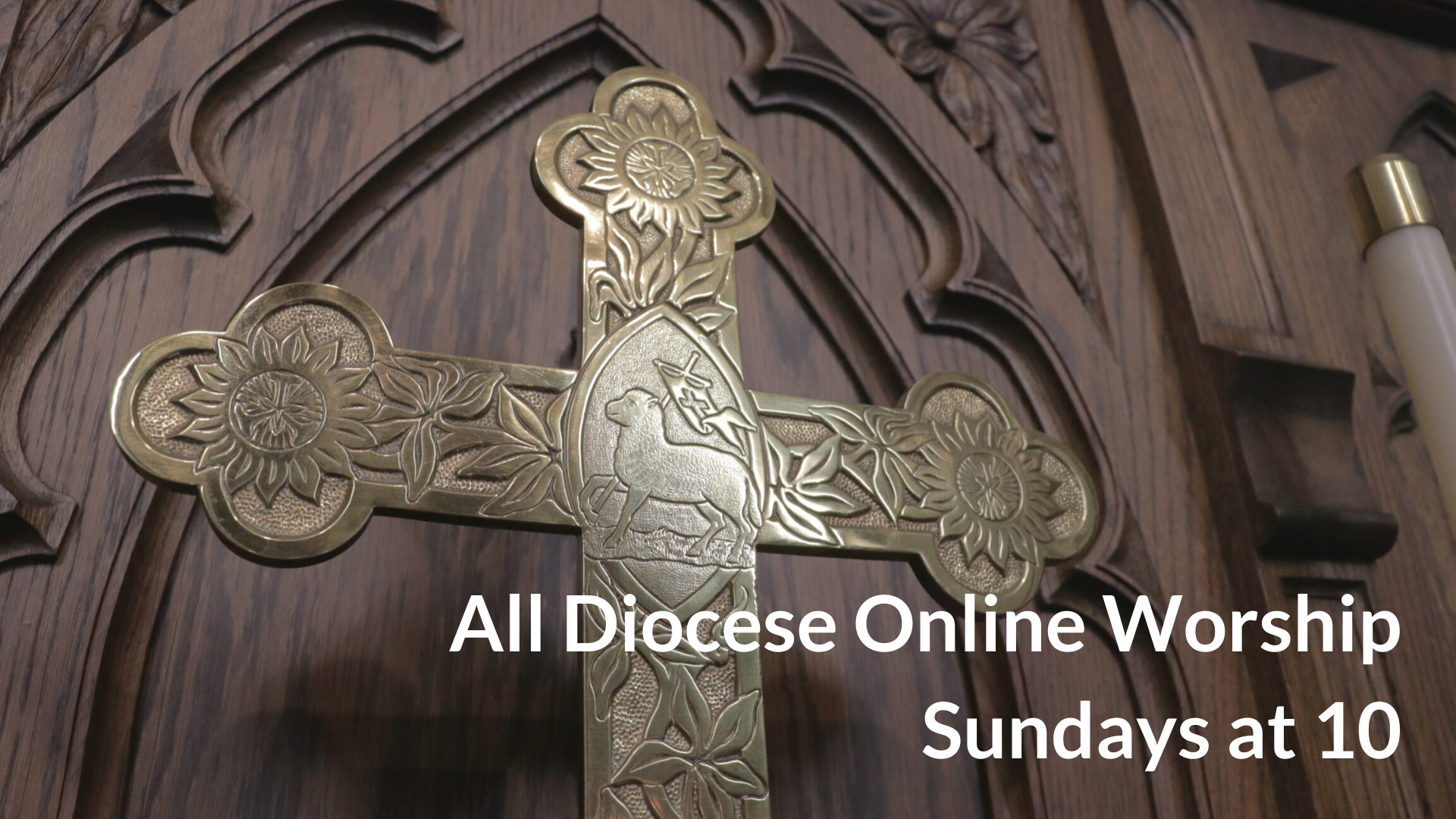 The Annunciation
March 25, 2020
Dear Friends in Christ,
Grace and Peace to you on this most holy day when we remember the Good News, "The Word became flesh and dwelt among us." That word showed us the way to walk in love by giving ourselves to and for one other as the heart of our way and love.
Out of love and compassion for each other, we have ceased worshipping together in our parishes for the duration of the Safer at Home order. Out of that same love, compassion and care, we are gathering to worship as one diocese so that our clergy and lay leaders can focus on essential ministries of care and compassion.
We invite you to come together as a diocese to worship with us on Sunday mornings. At 10 am, we will livestream a Liturgy of the Word service through YouTube and Facebook Live. These services will feature officiants, preachers, readers, and musicians from throughout the diocese. We will also have bulletins available for you to follow along at home.
We look forward to coming together as a diocese to worship and pray with you. Please join us.
+Steven
The Rt. Rev. Steven A. Miller
Bishop of Milwaukee
March 21, 2020
A Statement from Bishop Miller Regarding 12-Step Groups

Dear Friends in Christ,

The diocese has been participating in statewide calls with Lt. Governor Barnes and clergy. You may have been hearing from other clergy different information concerning the number of people allowed in gatherings and interpretations of the governor's restrictions.

I have reviewed my letter from March 17, 2020, and the guidance restricting meetings to no more than 5 people exceeds the state-mandated requirements at this time, with one exception. This 5-person restriction remains in place within the diocese.

I had exempted 12-Step programs from the gathering size requirement. The state, however, specifically has not exempted 12-Step programs from their meeting size restriction. Therefore, 12-Step programs like AA meeting in facilities in the diocese will be required to meet the state requirement of not more than 9 people in a meeting.

Since the development and implementation of actions to prevent the spread of the COVID-19 virus is fluid and changing, we will occasionally have to make changes based on the events around us.

I ask for your continued prayers for all those affected by the virus and especially those in need, the elderly and those who have contracted the virus worldwide.

Deacon Bill Dunlop is monitoring the statewide calls on our behalf. Thank you, Bill, for volunteering to manage this.

+Steven

The Rt. Rev. Steven A. Miller
Bishop of Milwaukee
---
March 17, 2020
To the Clergy and People of the Diocese of Milwaukee
Dear Friends in Christ,
Grace to you and peace in this holy yet most unusual season. We live in a time that requires more of us than most of us could have imagined.
I write you today as your bishop, chief pastor and canonical overseer. With the direction from the Center for Disease Control to limit gatherings to no more than ten people, I am directing the clergy and churches of the Diocese of Milwaukee to suspend public worship indefinitely. On March 31, I will reassess this situation in light of developments and give directions for the future. We fully expect that this closure will remain in effect through Holy Week and Easter, and that our traditional gatherings for that season will be canceled or postponed until the time of social distancing can be ended. This also extends to the following:
No funerals may take place and must be postponed to a later date. Clergy may officiate at graveside services, being cognizant of the number of attendees. When possible, interments should be postponed to a later date.
No groups of more than 5 may meet in our churches. An exception is given to 12-Step programs that meet in our buildings. If possible, 12-step meetings should meet in larger rooms that allow more distance between people.
These directives apply to all our congregations, clergy and licensed lay ministers.
Please know that it pains me to make this decision, but I believe it is for the best of all. Loving our neighbor requires giving up for the sake of others. Even if we are in a low-risk group, our thoughts and concerns as followers of Jesus must be our desire to limit the spread to the most vulnerable. Something which at this point only time and social distancing may provide.
Earlier today I met with many of the diocesan clergy in a Zoom video-conference to discuss creative ways to minister and be the church in a time such as this. As always, the creative gifts of our clergy community were freely and graciously offered to one another. We discussed ways of offering online worship and formation. In addition, the diocese has expanded its capacity to host online meetings through Zoom. As this crisis continues to unfold, I will be meeting with the clergy weekly in Zoom conference.
I am well aware that this time may cause some economic hardship in our congregations. I encourage you to continue to meet your pledge commitments to your parish and give faithfully and generously to those in need. I ask that parishes observe the following hierarchy of expenditures: clergy and staff payroll, necessary expenditures and then the diocesan assessment.
As I prepared to write this letter, this thought came to my mind. Over recent years what is considered regular attendance at worship has shifted from every Sunday to bi-monthly or even monthly for many. Could it be that this necessary fast from public worship will give us a new appreciation for our parish communities and the joy of worshipping together freely? That is my prayer.
Please know of my prayers for you all as this pandemic unfolds. Pray for all who are most vulnerable, especially the poor, the elderly, the immuno-compromised and all members of the health care profession.
Grace to you and peace.
+Steven
The Rt. Rev. Steven Andrew Miller
Bishop of Milwaukee
Additional Resources
Bishop Miller's Letter to the Diocese — March 12, 2020
Bishop Miller's Letter to the Diocese — March 6, 2020
COVID-19 Response in the Diocese of Olympia
Wisconsin Council of Churches Webinar on Faith-Based Responses to Epidemics and Slides (link to Google Drive)
Forward Movement Resources for Prayer and Worship at Home
Feeding Wisconsin Trainings (resources for preparing your food pantries)